Vampire Toast na San Diego Comic Con 2008!
Por Dado Ellis em 14 de July de 2008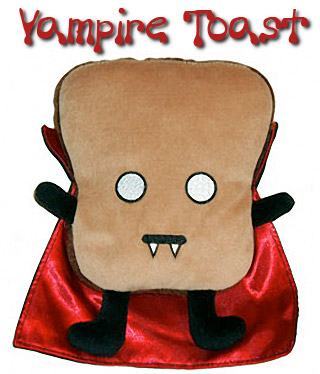 Entre as novidades e lançamentos exclusivos para a San Diego Comic Con, também está representada a Toy Art e um ótimo exemplo é o boneco de pelúcia
Vampire Toast.
Criado por Dan Goodsell, a versão torrada vampiro do Mr Toast é limitada em apenas 1.000 peças que vão ser vendidas durante a San Diego Comic Con, dia 24 de julho de 2008, por US$10.
Visite o site The World of Mr Toast para conhecer seu melhor amigo, Joe the Egg, e o resto da turma. Lá você também encontra comics, animações e desenhos.
Via I Like Toys.
em
Horror
Pelúcia e Pano